The popularity of smartphone apps, which have grown ubiquitous in today's always-connected world, is certain to continue their meteoric rise. The world is improving because of the efforts of many people. A total of $14 billion was given to charity in the United States in a year. Every year, there is an increase in the variety of charity organizations. Charitable organizations, locally or internationally, serve as invaluable resources for their communities. As a result, it aids in securing the interests and rights of numerous noble causes. Receiving the support and involvement you need to fulfill your organization's objective is a major problem for anyone working in the nonprofit or charitable sector.
There are thousands of Nonprofits and charitable organizations, each with its unique mission. Such as The Red Cross organization which manages disaster relief, the Care Foundation raises money to improve the quality of education in third world countries, and the Let Do It foundation organizes and oversees World Cleanup Day, an annual environmental cleanup effort.
However, you cannot create a mobile app with the same design for all charity organizations, but there are some elements that you can pick from other Charity donation apps.
Why Would You Create a Donation Collecting App for Your Charity organization? 
Making an app for your organization's cause has several benefits. The two most important things to create a charity donation app are getting more people to know about your cause and getting more people to donate to it. Facilitating communication about your efforts and their significance encourages others to participate and contribute. To that end, any measure that facilitates donations is welcome.
And yet, what else is there to say? Participating in volunteer groups is also important. The most effective way to engage those interested in the cause but cannot or will not donate money is to keep them informed, inspired, and involved in the process in other ways. 
Creating and directing a sizable endeavor requires the ability to communicate tasks effectively. You may get the word out about volunteer opportunities, facilitate volunteers' ability to connect, and ensure that everyone is on the same page. 
Boost Your charitable efforts with Sodality
Fully managed charity platform helping you engage and grow
What Characterizes a Succeeding Charity App? 
We finished our goals and accomplished them. But how does one utilize an app to achieve these ends? Several factors contribute to the best charity donation apps for nonprofit organizations, and these factors are like those that contribute to commercial success. The simplicity of these is crucial, as it is the key to attracting new users (or volunteers).  
Design 
Design is the most valuable tool for attracting new users. There are several parts to a well-designed church app. 
Excellent initiative UI/UX
Great user interface and experience (UX) is essential since only some users will use fundraising apps with a clumsy interface, a sluggish interface, or an inefficient design, no matter how noble the cause. Having a user-friendly interface and user experience (as well as a simplified process) is crucial if you want to keep users interested and coming back for more. 
A Beautiful Dashboard
A Stunning User Interface will show them the results of their work thus far and where they may go from here. It is crucial to keep this dashboard organized and functional to convey valuable information. Combine their volunteer data (funds raised, hours worked) with your overall progress and desired outcomes (total amount of trash to pick up or meals to be packed). This will show that you are open to feedback and help keep your team on the same page. 
Data visualization
An attractive dashboard cannot exist without data visualization. Your communication must be clear, brief, and simple to digest… also, it is common knowledge that everybody adores adorable pie charts. So, dress up as a panda and give it a gradient hue that reflects how close you are to your fundraising goal. Use your imagination, but make sure your message is clear. 
A donate Button
By the time someone is motivated to use your donation app to donate money, you want to capitalize on that desire as soon as possible and make it as simple as possible for them to do so; you should include a "Donate" button. In addition to being impolite, it is not in your best interest to have someone go to a lot of trouble to give you free money. 
Clear Stated Cause
Maintain open communication with your members, contributors, and volunteers regarding your organization's stated mission and financial status. People like it when you are upfront about your intentions, processes, and finances.  
Must-have features for a charity donation app: 
Safe Online Payment Processes: Donors should feel secure that their funds will reach you and that their credit card details will not be taken by a gang of pirates in the Caribbean.  
Strong, Robust, Scalable Infrastructure that Supports Large Transaction Volumes: It would be a major disappointment to have the entire system go down in the middle of a particularly successful fundraising campaign, which is why robust, scalable infrastructure is essential. 
Third-party integration: To streamline your email campaigns, social network postings, and text message notifications, you can link these processes to your fundraising app using third-party integration tools. 
Application Programming Interfaces (APIs): Using APIs (application programming interfaces) rather than developing your tools will help you save money and provide your users with a more seamless experience. 
Compatible with Devices: Your donation collecting app must work on a wide variety of devices. Android? That is gorgeous, iOS; it worked like a charm. Blackberry? I suppose. If you think your main demographic is a bunch of die-hard Blackberry fans, go ahead and do the research and the math to find out. 
How to Create a Profitable Charity App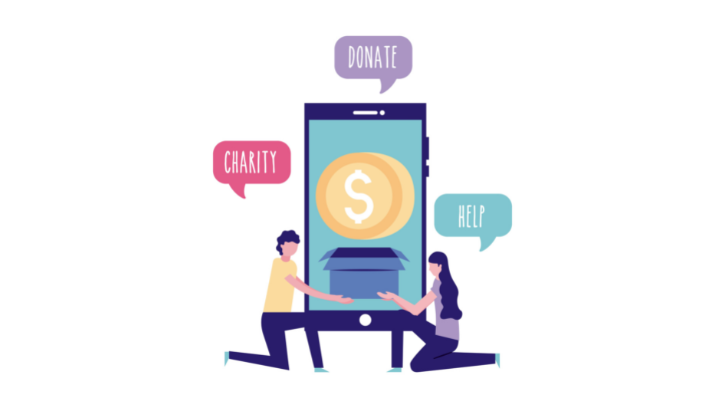 You can develop a wide range of technical capabilities in your application. As an example, a text-to-give option can be added to online donations. Like the Red Cross's text alerts, which notify recipients of urgent local situations and ask them to reply with a word to donate. Donors and members can receive notifications via mobile messaging as well.  
Mobile apps simplify data sharing with your organization's supporters, contributors, and volunteers. You may quickly disseminate information to those who need to see it, whether it is an urgent call to action, breaking news about the cause, or an internal memo. Another great idea is using QR codes to quickly and easily direct interested parties to your preferred method of contact, be it a mobile app, website, or something else. 
Furthermore, Augmented Reality is a neat technique to impress your friends. To boost morale and motivation, show your participants how their efforts will meet the challenges the cause presents. If your group studies ocean pollution, for instance, and you have the technological means to recreate the conditions of swimming in the Great Pacific Garbage Patch, it may be an eye-opening experience for your members. 
Finding the Best Software Developer to Work With 
In the software development process, it is crucial to have a long-term, experienced development partner that can bring domain expertise, especially if you are entering the process with little experience or knowledge of software development. That is a whole lot of defining features. What follows is a dissection of these phrases. 
Qualities of an Ideal Programmer 
Long-term: you want a partner who is invested in the success of your program or software over the long haul, not someone who would rush to produce an inferior minimum viable product (MVP) using the quickest and most basic available infrastructure. 
Qualified: choose a developer with a history of creating software and church apps for charitable organizations. Someone else's well-honed development knowledge can be added to your software, including tips and tactics you may need to be aware of. 
Domain Expertise: The ideal product strategy partner will have the time and energy to learn your subject inside and out so they can advise you on it. They should guide your investigation and whittle down your feature set to those that best present your nonprofit's mission and how its app helps it fulfil that mission. 
Create a Winning App Strategy for a Charity Donation App 
The importance of determining your target demographic while developing an app has been discussed. But what else must you consider? 
With Sodality, grow your charity
Fully managed Charity platform helping you engage and grow
Narrowing Down and Tailor Your Objectives 
What are the most important aspects of your purpose, how should they ideally be tackled, and how would they work in a mobile application? 
Budgeting 
How much money can your organization realistically put aside for app and software development, and what kind of pitch would be most convincing to larger donors? Then, once you have the data and are familiar with your financial constraints, use it wisely. This boils down to creating the greatest possible Minimum Viable Product and employing software architecture that considers the broader picture and long-term objectives. 
Create an MVP 
Only the most crucial parts of your app should be included in the MVP. The development and expansion of the system depend on the success of these elements, which will encourage user participation and monetary contributions. And this minimum viable product should be constructed on long-term, scalable, reliable infrastructure. 
Rather than Starting from Scratch, Utilize Freely Available Code 
Use open-source software and existing application programming interfaces (APIs) with your development partner to cut costs. You can avoid starting from nothing by using the many fantastic resources available for developing apps today. 
Promote Your Donation Charity App 
a concept that springs from, primarily, understanding your target demographic. You need your group to have a stellar reputation among those who know how to address and aid your cause. In addition, your business must earn a stellar reputation for its adept handling of financial and human resources. For example, long-term success can be achieved by being open and honest with your executive team and your customers about your finances. You will see a rise in downloads and usage of your charity's app. 
After you have developed a logo and tagline that reflect your organization's values, goals, and target demographic, you can begin promoting your brand to the right people—reducing turtle extinction. To publish your thoughts on National Geographic, try writing opinion pieces. Concerning what, exactly, are human rights? Exhibit commercials on the right platforms. 
How Sodality can help to grow your organization 
Sodality is a cutting-edge nonprofit management app with robust features that adapt to the changing requirements of charities, clubs, and churches. Because of the app's high-quality features, non-profit organizations can interact with their members in significantly new ways. Some of its features are as follows: 
Branded Mobile App 
Thanks to Sodality, you get your very own branded mobile app; your members and donors may now participate in your organization's activities whenever and wherever they please. 
No capital Expenses 
Avoid wasting money on a custom mobile app development team. Engage the services of Sodality's branding specialists to create a unique identity for your mobile app. 
In-App Donations 
Now is the time to begin taking payments via your branded mobile app. The app supports both credit and debit card payments. 
No long-term commitments 
After the initial configuration is complete, your company will pay a nominal monthly fee without committing to a lengthy contract to receive ongoing support and regularly released feature enhancements. 
Mobile app sign-ups 
Save time collecting physical membership applications. People may now join your group and begin communicating with you through the mobile app by signing up for an account on your site. 
eLibrary, or Virtual Library 
Handle all the books, audio notes, and scriptures you plan to share with the public. A library is a fantastic tool for maintaining interest in your organization's goals among its patrons. Spread the Love Donation Module 
Donation Widget
Create a one-of-a-kind donation button right on your site. Develop a plan to accept contributions from any source and compile the resulting funds in one central location. 
Sign Up on Your Own 
Allow people to join the service by downloading the branded app. Keeping them informed and involved with your organization is a win-win. 
Donations Via Text Message 
Users can send donations instantly by texting the amount to the short code you provide. Now is the time to spread your short code and begin collecting money. 
Multiple Locations Chapters 
Plan your work efficiently and expand your business by opening new offices or branches. People can join or give to groups in whatever cities they call home. 
Individual Messages 
Facilitate simple communication between your group's constituents. You should make it possible for them to quickly communicate with one another through your platform using text and photos. 
Services Calendar 
See all your scheduled service events in one place. All service reservations can be viewed and managed monthly or daily. 
Paid Events 
Commence publishing and advertising commercial events on the site. There is granular control over accessibility based on physical location and subscription tier. 
Volunteer Registration 
Sodality provides a convenient way to organize your group's roster of helpers. Inquiries from interested volunteers can now be sent straight to the group via the app. 
Custom Emails 
Personalize outbound emails to users by inserting your company's name and logo into a template provided by the platform. 
Conclusion 
A mobile app is a tool all companies use to attract more customers and compete more effectively in today's market. Everything you need to make a reliable, feature-rich, and visually appealing app is included in the Mobile app, from the quality of its code to the honesty of its audits to its scalability. A charity donation app will serve as a digital engine for your NGO, ensuring its success worldwide. 
Boost Your charitable efforts with Sodality
Fully managed charity platform helping you engage and grow